Over the weekend the
Style Damsel Crew
was pleasantly greeted by a lovely couple from down-under.
What was supposed to be a birthday present for the newly 30-year old
famous blogger
, turned out to be a beautiful gathering of fashion, media, and charitable
people from all around Singapore.



A feat only
attainable by
Karen Cheng
.
The petite mother of two, was here with husband, Andrew, to host the "
Doing the Karen Cheng
"
event
last Saturday over at
Indochine
.
Karen and Andrew "doing the Karen Cheng"
Not only was it a great way to meet fellow bloggers like
Kennysia
(who was seen "very hungry"), and Stephie and Dottie from
Fashion Nation
, but all proceeds collected from the event
went to the Singapore Red Cross!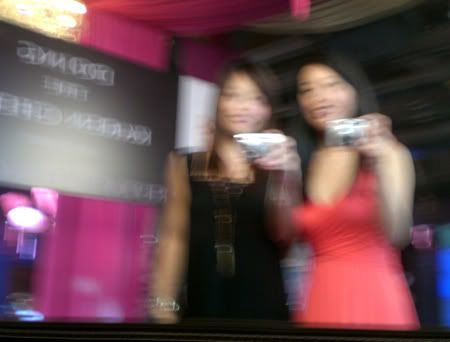 There's a reason why it's called "Doing the Karen Cheng" and not "Doing the Style Damsel"
**Shall wait for Karen to e-mail us her "CLEARER" version :)**




Karen
, who blogs about her life, children,
fashion and shopping
(which is what we loved the most), caught our attention when she first started to review "under-rated" online shopping stores, where she would carefully display attractive images of the merchandise that she liked on
her blog
.
We are truly grateful to the affable couple for sharing their love, joy, and "birthday present" with us!
Till we meet again ... :)
P/s: the Style Damsel is a 5-year old fan of
Karen's Snippets of life
(This, we were told to keep a secret! Ahh...Shhh...)