Just when you thought Dove grey nails are so over,
you're wrong!

According to our Style Damsel, the whiter shade of gunmetal lacquer from 2007, continues to be the "IT" color to be spotted over your keratin!



It all started when successful Indian brand, OPI, unveiled "Moon over Mumbai" for their Spring 2008 palette.
Before you squirm over the thought of having that dull, boring, eeeky-looking hue over your well-maintained (we hope) nails, we thought you should take a look at this:
Isn't the unstated grey a perfect mix of class and style?
If you are unsure if this hue suits your skin tone, you might want to try using
OPI's online studio
to "test on" these lacquer (You can find
Moon Over Mumbai
under their "India" collection):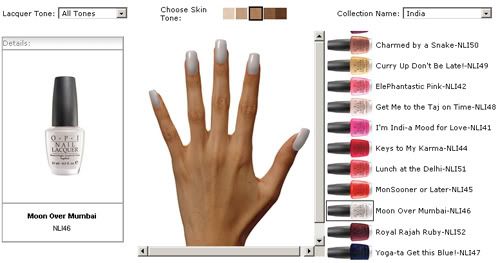 So remember to update your lacquer and have tonnes of fun!