Like all SATC fans,

We can't wait for the movie to be out!

Remember that scene where Carrie Bradshaw unconsciously opened up what looked like a classic lacquered telephone at the stairways, to unveil a magnificent bag that could instantaneously make any girlfriend jealous?


The Marilyn Phone, Named after Marilyn Monroe, by Timmy Woods
Well, bag designer,
Timmy Woods
, will have another work-of-art featured in the
Sex And The City movie
. Aptly called, The Effiel Tower Bag (with Crystals), this delicate ensemble is brilliantly embellished with 6,300 Swarovski Crystals - (no wonder it cost USD3,000)!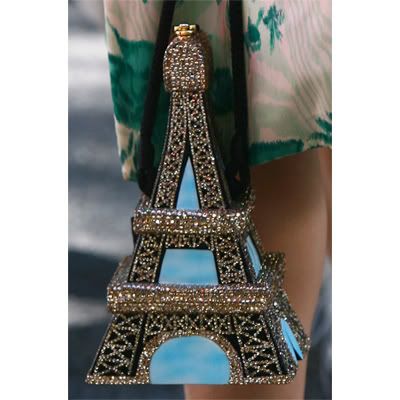 Before you jump to conclusion and think that these bags are assembled from metal hands and conveyor belts in China, bags from
Timmy Woods
are authentically handmade, like in
Style Damsel
, and every different designs have their individual molds carved out from woodblocks. We sure understand the dedication and amount of sweat put into each finished product!
Here are Style Damsel's Top 6 Picks:
Timmy Woods
not only offer these one-of-a-kind handmade bags, but also other classic designs and leather products like the Bo and G1072 - A.
(Doesn't the G1072 - A reminds you of
Style Damsel's Sold Out Double Weave bags
?)
Bo and G1072