Almost every January is frantic.
Couture and rtw shows seem to have a hidden agreement to showcase their next season's collection altogether during this period to major fashion buyers and media players.

Just last week, we saw snow queens and rococo style aristocrats strutting their stuff down the Grand Palais and Bois de Boulogne for the Chanel and Dior Couture shows respectively.

In all opulence, an erected beige-like sculpture rendering the infamous Chanel tweed suit jacket, was placed on a circular revolving stage of the fashion house. From this massive mausoleum, came out models who were all wearing ballet flats for footwear, a complete novelty for the famous rue Cambon-based house.




Androgenously feminine



Evening gown



That looks like Devon Aoki.

Riot of colours, precious fabrics, and lavish details - yet another testimony of the level of workmanship in Christian Lacroix's summer haute couture collection.

For his ballgowns he went for drama, long-line bodices cut close to the body billowing out into voluminous skirts. Sleeves reminiscing the 19 century, came in the form of leg-of-mutton or ballooned shaped. (One of Style Damsel's favourite trade)



Heavy brocade, gingham, and contrasting pipelines exemplifies the modern day couturier



Crinoline skirts, French chantilly lace brings us back to the pre-French revolution


Style Damsel's made-belief boyfriend, John Galliano's Dior summer haute couture collection was another parade of sumptuous gowns in rich, vibrant silks, embroidered with gold, or encrusted with crystals and jade. Gold arabesque embroidery and geometric motifs were reminiscent of the paintings of Gustav Klimt.

In the programme notes Galliano said he had been inspired by a portrait of Amelie Gautreau in a plunge-neckline dress by the 19th century American painter John Singer Sargent, which caused a scandal at the time.



Wattaeu Dresses inspired from the 1920s - Cristobal Balenciaga's signature silhouette



Bustier with cocoon skirt



Beautifully draped ballooned dresses from printed leather and heavily beaded silk Duchess satin.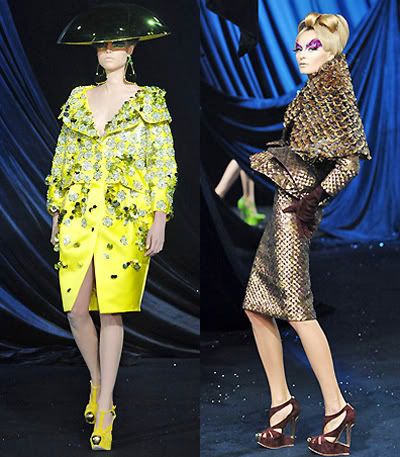 This season's trend of broad high collars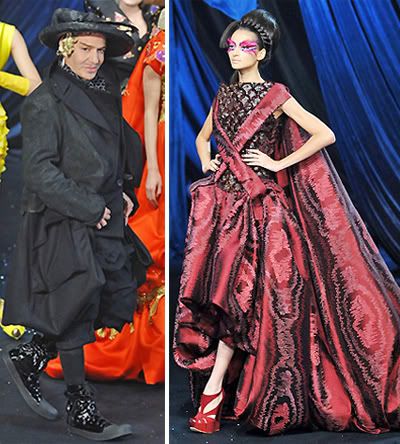 finale watteau gown with JG.


Over at the women's ready to wear runway,
Central Saint Martin's alumni, Jonathan Saunders opted for a longer bodice and peplum skirts in his coordinates. Mandarin collars were spotted on well-tailored shirts. Saunders's explorative blend of using tied-dye chiffon in blouses created a soft, flowing element, that injects a sense of feminity to his collection.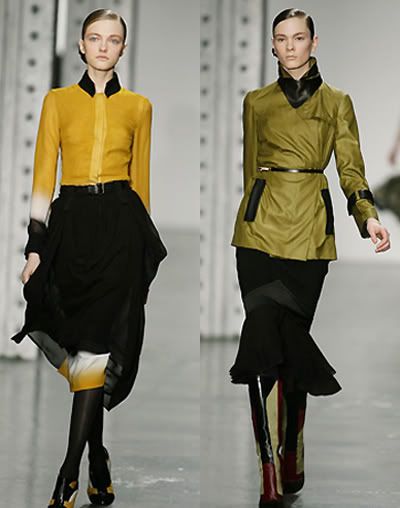 For more reviews and images of the
Photo Source: Elle.com